A Really "Good Friday" at Walter Reed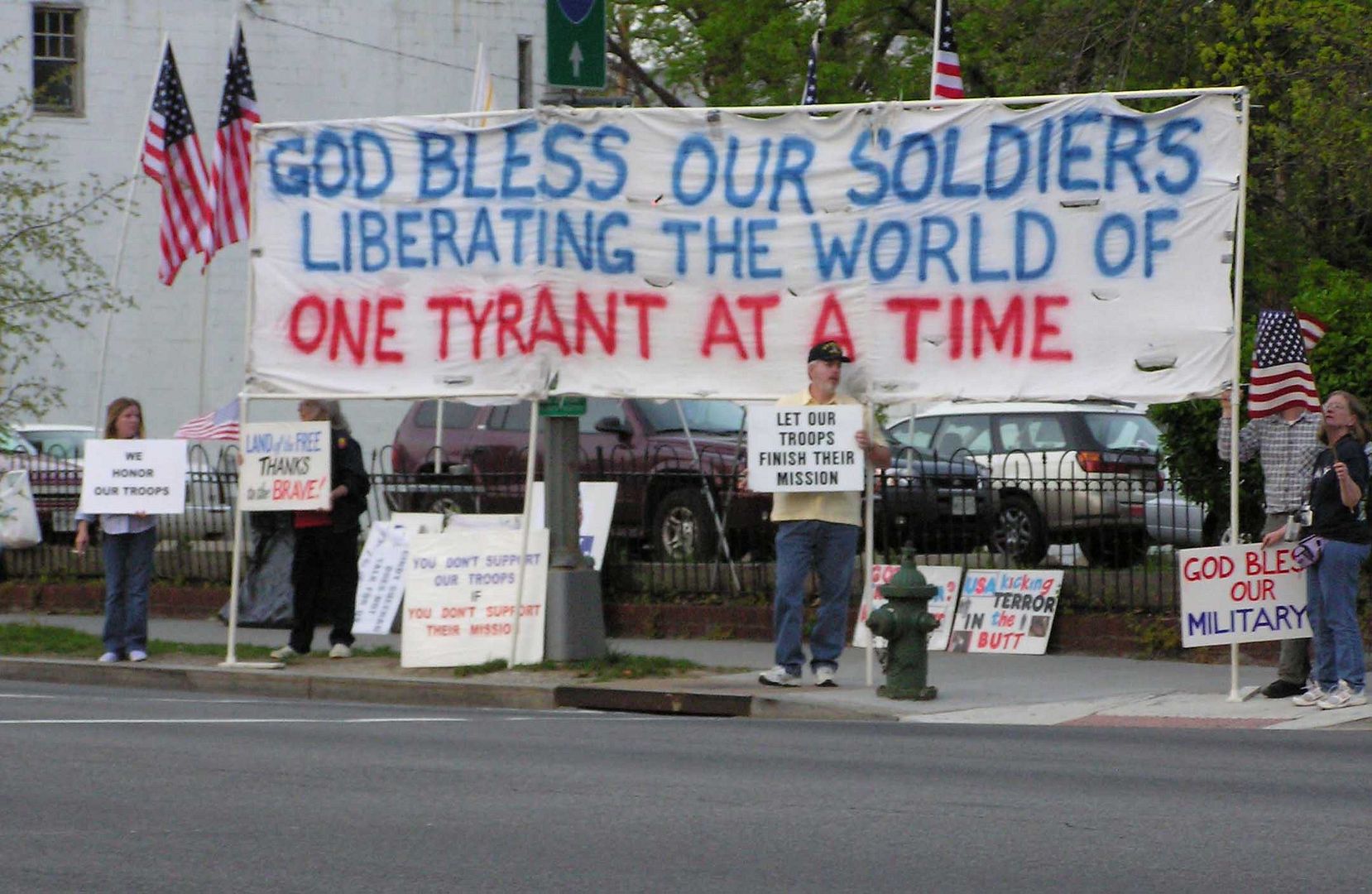 It's been awhile since I reported on the FReeps at WRAMC. Despite it being a quiet night this Friday, there's a lot going on elsewhere that ties in to our weekly support demonstrations.
Friday night before the
Milblog Conference
will be a flurry of activity. There's a
get together
at the Key Bridge Marriott. All those planning to attend the conference can start the evening by bending an elbow at Pitchers, then come down to WR. The meet-up begins at 7pm.
The FReep at WR starts at 6:30 and goes on until 9:30ish. We gather at on the corners of Georgia Ave. and Elder Street which comprise the 4 corners at the front gate. There's plenty of parking on the street - you don't have to park inside the hospital lot.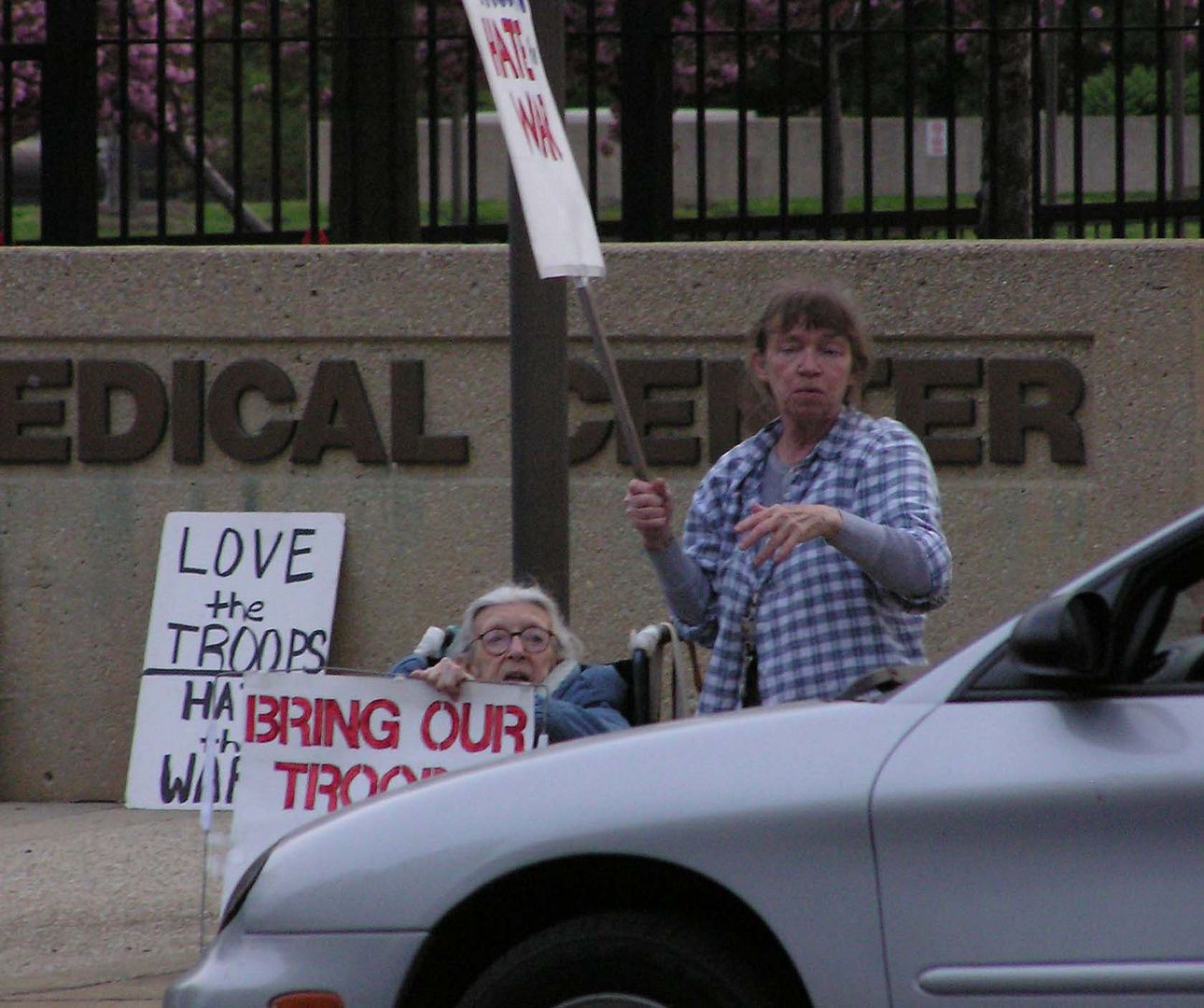 There was an unusually high police presence tonight. The pic in the upper right shows an officer (white sweatshirt) warning the commies to behave themselves. Poor Bruce (hiding behind propaganda sign) complained about us taking pics, and the nice cop reminded him that he's out in public. They also whined that they were being harassed by the pro-troop supporters who came waaaaaay down the block and said mean things to them. They didn't dare tell the truth -
that the wounded heroes living inside the gates have often made their views of the Pinkos unmistakably clear to the commie 'tards!
You can just make out the pitiful band of traitors down the block to the left of
JackDeth
.
I said goodbye tonight to a rather unique warrior.
Senior Lt. Misha Kutateladze and his wife Tea
are finally on their way home to Georgia (the country). After almost 13 months of surgeries and therapy, Misha has made a remarkable recovery from terrible injuries he suffered from an IED explosion in Iraq. He has a new prosthetic for his lower left arm and an amazingly realistic prosthetic left eye.
Last month he told me that a high-ranking officer from the
Georgian Army asked him what he wanted to do when he came home. Lt. K responded that he really wanted to stay in the Army. His superior thought that was a great idea and that Misha's military career was far from over. Hooray!!!
I'll miss these two very much.
We had a light turnout this week but still covered all the corners.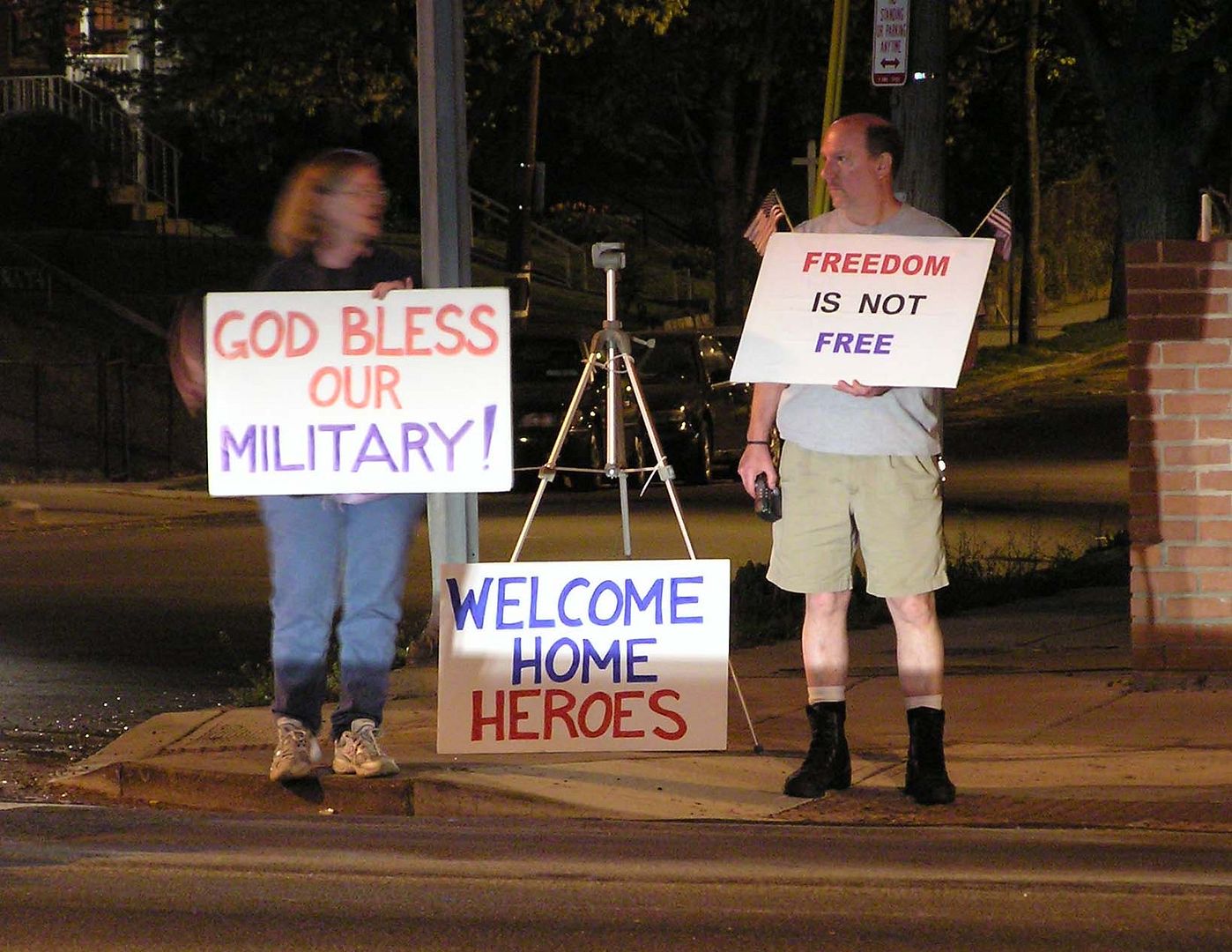 My brother (Hi BO!) an old jarhead himself, was up in the area and joined us.
To top off the night and make it a really "Good Friday", an Army Chaplain who had just finished his duties inside, stopped his vehicle in front of the MOAB (Mother Of All Banners) and blessed us all!
The really bad news this week is
the eviction of Fran O'Brien's
from the Capital Hilton. Traditionally, we end the evening when the bus full of wounded warriors returning from a night out at Fran's enters the gates with all of us cheering and waiving flags. That end to our night's celebration will cease this month if the Hilton follows through on its decision to not renew the lease.
Andi
has
been in touch with the top brass
at Hilton
and will send questions that her readers leave in the comments. The deadline for submitting questions is midnight tonight (Sunday) so there's not much time. Read the comments to Andi's post - a lot of really good questions have been submitted already!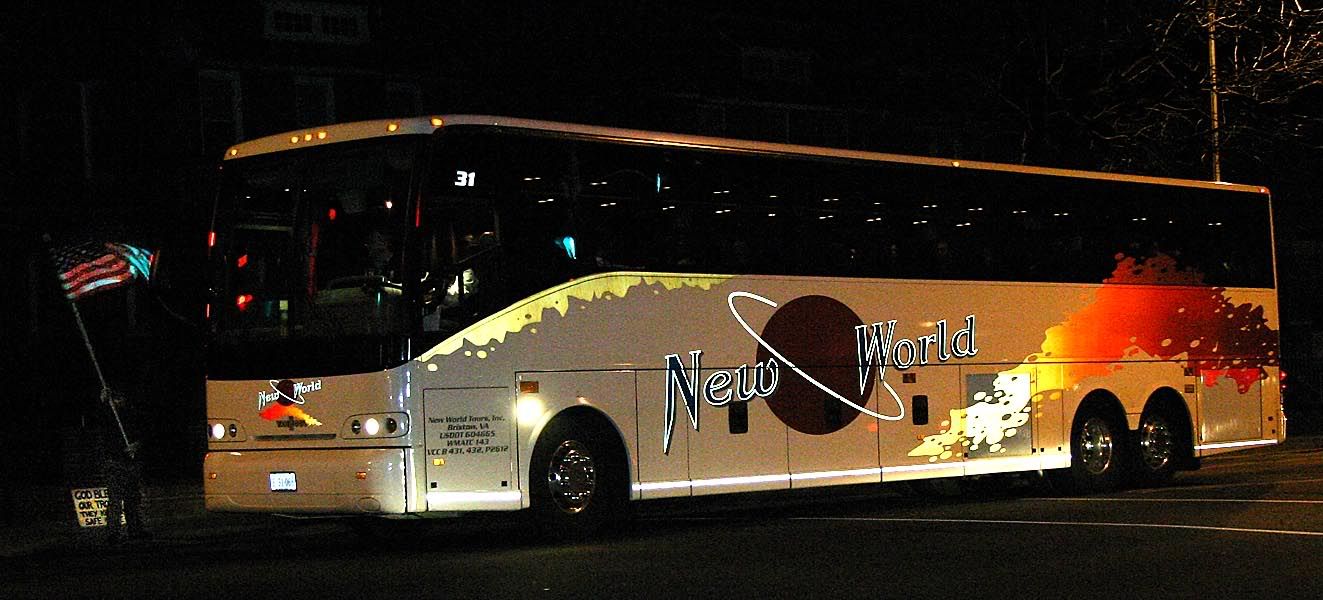 We want to keep seeing this bus! It means so much to our heroes to have friends like Hal and Marty who will never give up their support and thanks to our troops.
Sgt Allen of
Contact Right...Taking Fire!
(one of the wounded warriors of WR!) has some
alternate contacts for Hilton Corp
. He's also got a great blog - check him out!